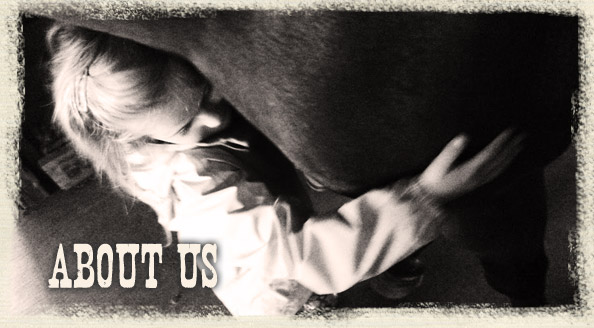 Mountain River was formed after we discovered a program for kids and horses in Oregon called Crystal Peaks Youth Ranch. We fell in love with Crystal Peaks: their staff, the sparkle in the eyes of the kids, and the kindness of their horses. We attended the Crystal Peaks Information Clinic during Spring 2007, and set out to create a program with the same heart and purpose in the Pacific Northwest.
Our Mission
MRYR offers love, healing, encouragement, and hope to children and their families as they become engaged in the love and care of horses. We seek to impact the trajectory of a child's life towards a more positive and purposeful future by renewing a child's hope and mentoring broken hearts.
Our Vision
"We love because He first loved us." I John 4:19 (NIV)
To serve all children interested in coming to the ranch, with an emphasis on at-risk or struggling children from a variety of backgrounds (usually ages 6-18, with some exceptions).
To teach basic horsemanship and ranch skills to visitors, based on trust, respect and teamwork.
To provide a safe and loving home to our horses.
To foster meaningful, caring relationships between children, volunteers, and staff, as well as within families.
Our Logo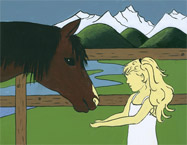 Original Logo, designed 2008
Joan Beier designed our first logo. In her painting, she captured what was in our hearts as we began building this ministry back in 2008. Joan is a local artist who lives in Allyn, WA.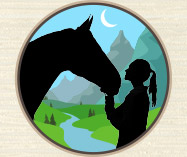 New Logo, designed 2015
We recently commissioned a new logo and wanted to retain most of the elements from her original idea. As you can see, we kept the girl and the horse with the mountain and river. We added the moon which shines its light during the darkest hours – the singular goal of our ministry.
LEARN MORE:
> Board Members
> Volunteers
> Local Partners
> Meet our Horses
"You guys are simply the best! Hannah is always so excited when she gets to come to the ranch and see Angel and her friends! Thanks for making every trip there such a memorable one."

– Kristin, a mom