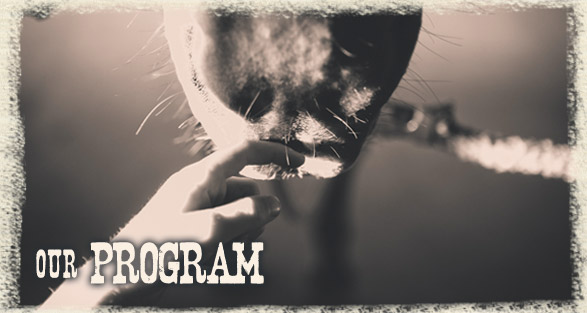 The Heart
A "session" is at the heart of what we do. A session provides a safe place for children, horses and families to experience hope, healing and encouragement. Each session, through a multitude of methods, has one main purpose: to mentor the child.
This is accomplished by inviting children to come just as they are. The leaders of Mountain River work hard to pair kids with an activity or horse that will encourage them forward toward hope and personal growth.
All activities are chosen at the discretion of each individual leader. Some of these session activities include working with/riding horses, crafts, games, helping on the ranch and life skills.
A secondary goal of our session program is to educate kids in equine safety and husbandry. All activities with the children are structured to accomplish our primary goal of creating a safe and loving environment to mentor the child.
The Who
Our session program is open to all children, ages 6-18. On occasion, based on need, age exceptions are considered. The only other "requirement" is that the child wants to come. Mountain River understands that every child deals with his or her own set of unique challenges. Session leaders work hard to adapt programming to meet each child's needs on their day.
The Scheduling of Sessions
When families call or email with inquiries about sessions for their child, we add them to our email list. Each month, during our open season, they will receive an email from Mountain River which includes the next four weeks' schedule of available sessions.
Upcoming sessions are also listed on our Calendar page.
Once they contact the ranch with their scheduling preferences, they will receive a confirmation for the date and time of the session(s) reserved for their child and other details they might need to know.
Group Sessions
You may also contact us to make special arrangements for groups. Call us at (425) 210-4223 or email info@mountainriveryouthranch.org
Release Forms
Everyone who comes to the ranch needs a signed release form that can be downloaded from our website. Guardians, parents, siblings and the children each need their own release form. Click here to download.
Information for Parents/Guardians/Caregivers
We require that a child's parent, guardian or approved caregiver be on the property at all times during their child's session.
Adults and siblings or friends who do not have a session have some options. We hope for this time to be relaxing and enjoyable for all who come.
Here are some ideas for that time, as well as some general safety rules:
Read or relax in one of the areas provided. Please ask a leader if further information is needed.
Seek out one of the observation areas on the ranch for quiet reflection and prayer.
Get plugged in as a local volunteer.
Play or be involved with your kids who are not in sessions. Please keep these children with you at all times. You are welcome to use our craft and toy boxes during your stay.
Watch your children ride during their session. Bleachers are provided for you to use. We ask that you watch from a distance and help us maintain a one-on-one relationship with your child.
Taking pictures is permitted and encouraged. Again, we ask parents to use discernment regarding giving space to their child and leader during the session. No photos can be taken of other children due to privacy issues.
The horses love to welcome visitors. We invite you to meet them from outside the fences. Please do not enter the paddocks or feed any treats without a MRYR leader present.
The greeter is always available if you have questions or would like ideas on how to fill this time.
"The smell of horses warms my heart."

– 7-year-old