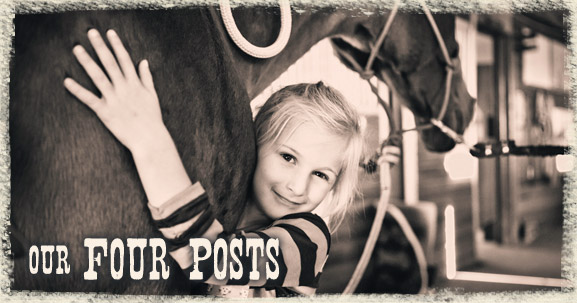 "To be a ranch of renewed hope as the hearts of a child and a horse meet."
Mountain River Youth Ranch (MRYR) offers love, healing, encouragement, and hope to children and their families as they become engaged in the love and care of horses. Through the wisdom and guidance of Jesus Christ, we seek to impact the trajectory of a child's life towards a more positive and purposeful future.
Our mission is tied to four "hitching posts" — four core principles that guide every decision and activity at the ranch: Rehabilitating, Mentoring, Sharing Hope, and Inspiring.

Since some of our equine counselors have themselves experienced struggles or are retired due to injury or age, they are uniquely equipped to work with children who are also enduring adverse experiences..
Fortified with the courage of a survivor and the heart of a champion, our horses lead children by example and keep choosing to move through their troubled and changing times toward hope.

Every child that comes to Mountain River is one-of-a-kind. We choose to work with each youngster independently by pairing one rider, one horse and one leader/mentor for their session.
Each private session is designed to be flexible, meeting every child's distinctive needs. A wide variety of fun and creative methods are woven through all the sessions. During this time, the leader seeks opportunities to nurture the child, sharing in the child's personal tears/hurts and cheering personal victories.
All of this is done for children ages 6-18…completely free of charge.
Though the ranch exists primarily to serve the broken and under-resourced, we've also seen great benefit in healthy kids riding and playing with hurting kids.

It is our hope to provide opportunities for the entire family to become involved together. In this manner, experiences are shared that build the resilience needed to grow a strong-knit family. This process can be as simple as encouraging parents to stay and watch their children ride, cheering for their victories.
Organized events for the family shift from season to season. Throughout the year, we offer numerous, fun events for parents, guardians, grandparents and kids.
At Mountain River, we hope that when the family is given a chance to come together and play, laugh, share and pray… hope, healing, love and wholeness soon follow.

We would love nothing more than to hear how others have decided to help in some way because of what they have seen or heard happening at Mountain River Youth Ranch.
Here are a few ideas to directly support MRYR from your own hometown:
Fundraising: bake sales; donations "in honor" of someone in lieu of gifts; tack sales; play-day proceeds; birthday party giving in lieu of gifts; youth group yard work; chores for hire; church giving drives; yard sales; women's circles. Nearly any surplus of items can be sold as a fundraiser.
Sharing the Message: Share the ranch's website, brochures, story, etc. with friends and family.
Your own Ideas: We're always appreciative of the creative ways that kids, families and groups support MRYR from afar.
We're aware that the mission of Mountain River reaches far beyond our small ranch.
If you're interested in supporting the general mission of MRYR in your area, here are some ideas:
Purposefully reach out to a child in need in your area or through a local organization.
Personally rescue a horse or volunteer at an equine rescue.
Volunteer at a local similar ministry.
Provide emotional support to families in crisis through specific programs, financial aid, food or fuel gift cards, friendship and prayer.
It remains our continuing desire to encourage anyone who's choosing to share the core values and purpose of Mountain River.
"Makenzie is really missing Angel and all of you…and truth be told, I miss all of you too…"

– A grandma